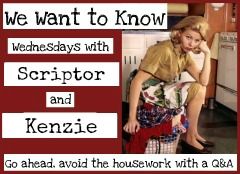 Link up, have fun, and spread the word!
1.
How do you feel about all of the pumpkin spice themed goodies?
I
love
it! I am a huge fan of pumpkin flavored/scented anything - creamer, coffee, pie, candles, wax melts, marshmallows, you name it. Pumpkin to me just screams fall, and fall just happens to be one of my favorite seasons.
2.
Do you have anything you do to prepare for the fall weather?
Not necessarily, at least nothing that I do every year traditionally. Although, I have a four page list of to-do projects, etc. that needs done sooner than later. Most of it I would love to get accomplished before the weather turns rainy. But, if I could only do one thing on that list it would be to clean and fix our gutters! On our porch we have a wonky gutter piece that sprays water every which way and soaks the porch.
3.
What is your favorite fall activity?
I honestly cannot name just one, it is impossible for me to do. So, here is a super cute Fall Bucket List that you can check out:
4.
Do you have any fun traditions around this time of the year?
Not really, we like to try to get outside as much as we can before our good weather runs out though - nature walks or going geocaching!
5.
What is something you are looking forward to?
Carson's first day of preschool is tomorrow! He had his open house yesterday and he cried when we had to leave. He is so gosh darn excited about going to school, I love it! We also have tons of neat projects that are in the wood works that I can't wait to show case!
- - -
I'm obviously
♥'ing
... How much Carson is looking forward to preschool! I can't wait for him to bring home fun projects and stories from the friends he has made at school. His teacher seems like a real gem which is wonderful!
I'm obviously
♥'ing
... Pumpkin everything. Tomorrow I should treat myself to my first PSL of the year, then Instagram it because that seems to be the trend right now.
I'm obviously
♥'ing
... Pinterest! I made a new account for my blog that is much more organized
HERE
, go check it out!